Onsite Installation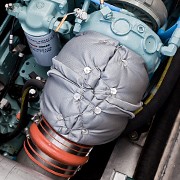 Removable Insulation Exhaust Cover on a RBM Commercial Response Boat, installed onsite.
West Coast Insulation offers complete onsite installation. Whether you need thermal, exhaust, refrigeration, sound, or fire protection insulation, our representatives are available for full-service installation.
We can also ship all the necessary insulation components directly to you, fully fabricated and ready for your crew to install.
Request a quote for onsite installation of your custom insulation solution, or contact West Coast Insulation for additional information.